Current Project
I'm working on a young adult novel series. The project encompasses a fairly detailed world-building campaign, including a couple of created languages, maps, histories, archaeological records, and (because of my long stay in the Pacific Northwest) ferry schedules.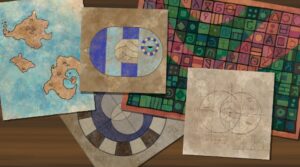 ——————————
Past Projects
 Some of my creative projects include:
~public and private murals
~writing and illustrating picture books
~stop-motion animation
~ceramic sculpture
~miniature set design
Gallery Experience
My first art gallery show was in Portland, Oregon in 1996.  Since then, I've shown in galleries throughout the United States and the Virgin Islands. ( AZ, CA, FL, GA, NJ, NV, NY, OR, PA, WA, St. Thomas, St. John, and St. Croix.)
I've had solo exhibits at the New York Art Expo and the Las Vegas Art Expo.